Maps
Three easy steps to find your way:
Check the address on your appointment letter
Find your entrance
Look for your zone
Part of HSC is divided into zones based on the eight major elevator banks:







Each zone has a colour and animal designation based on the eight major elevator banks of the hospital. When you come to HSC, you will be told to report to a zone and level.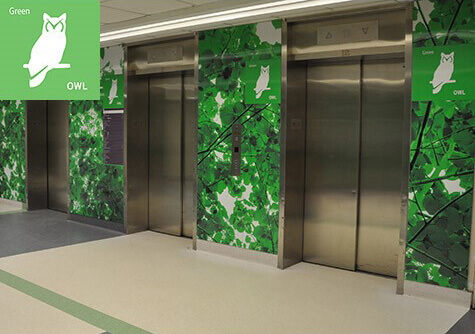 For example, if your appointment letter states Green Owl Zone, Level 2, Clinic G, you will:
Follow Green Owl symbol on the signs throughout the hospital until you reach the Green Owl Elevator bank (seen right)
Take the elevator to Level 2
Proceed to Clinic G
You can get to all zones from any entrance of the hospital.
If you need help finding your way at HSC, ask a staff member, visit the Welcome Centre at 700 William Avenue, or use one of the Information phones (signed with a ) inside HSC, and we will direct you to your destination.