Spiritual Health
Spiritual Health practitioners are available to support patients and their loved ones. Smudging is also available on request.
Spiritual Health Services can assist you in connecting with your inner strengths and hope in the face of illness, fear, discouragement and loss, or threat of loss. We respectfully support the needs of all – whether you identify as spiritual, atheist, religious or agnostic.
As part of the care team, Spiritual Health Practitioners accompany patients, families and staff who are:
Struggling to cope with illness, loss, trauma and questions of meaning and hope.
Experiencing grief/bereavement, dramatic change, issues of identity
Lacking community or family support
Requesting specific services (ceremonies, sacraments, rituals) or support (e.g. priest, elder, rabbi, imam)
If you would like a Spiritual Health Practitioner to visit you, call us directly, or ask the nurse to contact Spiritual Health office.
There is no charge for Spiritual Health Services.
Location
Green Owl Zone, Level 2 (GF 214)
Hours
Monday to Friday, 8:30 a.m. to 10:00 p.m.
Phone
204-787-3884
After hours
& Emergency
Contact paging (204-787-2071) to request an On-Call Spiritual Health Practitioner
---
Sanctuaries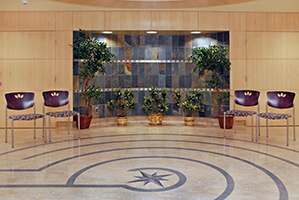 The Sanctuary in Magenta Fox Zone, Level 2 remains open 24/7 and can accommodate one person at at time.
There are three sanctuaries at HSC, which are open 24 hours a day as places of quiet and reflection. The main sanctuary in Green Owl Zone, Level 2 has a labyrinth for walking meditation.
Green Owl Zone, Level 2 (GH216)
Magenta Fox Zone, Level 2 (RR215)
HSC Winnipeg Women's Hospital, 665 William Ave (Level 4)
Smudging is available on request.
Smudging
Sanctuaries in Green Owl Zone and HSC Women's are equipped for smudging ceremonies. If you would like to smudge, contact Spiritual Health Services (204-787-3884) to book a time.
If you would like a visit from an Elder please contact WRHA Central Intake at 204-940-8880.
Scattering of Ashes
To support all families who are grieving the loss of a baby, HSC Winnipeg has adapted its annual Scattering of Ashes ceremony to provide families with the ability to host their own private service in honour of their baby. Scattering of Ashes ceremonies have been recorded and are available at these links:
Loss of a loved one
Caring is at the heart of what it means to be human. Our staff would like to offer you our condolences on the death of your loved one. How deeply this loss affects you is beyond our ability to know. Grief takes many forms and will move in its own time and you and your family members will experience many strong emotions. Be patient with yourself and others and find people and places where you can share your story and express your grief.
This document provides some practical resources that may be of use to you and your family during this time.
Spiritual Health Calendar
Due to COVID-19, these scheduled sessions and services are cancelled until further notice.
HSC Sanctuary –

Green Owl Zone, Level 2

(GH214)
| Session & Location | Day | Time |
| --- | --- | --- |
| Smudging Ritual | Monday (2nd of the month) | 10:00 AM |
| Meditation Session | Every Monday | 12:00 PM |
| Roman Catholic Mass | Every Wednesday | 12:00 PM |
| Christian Gathering (TBC) | Every Thursday | 11:30 AM |
| Islamic Community Prayer | Every Friday | 12:30 PM |
| Prayer Meeting Group | Weekdays | 11:30 AM |
| Morning Reflection | Weekdays | 8:30 AM |
HSC Women's Hospital – Level 4, Sanctuary (4205) & Ceremonial Room (4209)
Session & Location
Day
Time
Rosary Prayer Service &
Catholic Communion (Sanctuary)
Every Monday
11:30 AM
Smudging Ritual
Monday (2nd of the month)
1:00 PM
Christian Gathering
Every Wednesday
12:00 PM
Queerly Believe
Friday (2nd of the month)
12:30 AM
Islamic Community Prayer
Friday (1st, 3rd, 4th of the month)
12:30 PM
Everyone is welcome.
Note: Sessions will not be held on holidays.
Other Services
Scattering of Ashes (May & October)
Ash Wednesday
Remembrance Day (November 11)
Hanukkah Menorah Lighting
Winter Solstice