Step behind the scenes of Health Sciences Centre Winnipeg and follow the thousands of exceptional clinical and non-clinical staff who deliver and support care to patients every day. Here you will find lively interviews, unique perspectives, and intriguing fun facts about Manitoba's largest hospital.
Fun Facts
Approximately 280,000 meals are prepared for patients each year
More than 80 different languages are spoken in the HSC volunteer group
The Medical Device Reprocessing Department spans 20,000 square feet and employs over 100 staff!
Rehab assistants are skilled in operating and maintaining therapeutic equipment. From exercise balls, to grip trainers (and so much more) they assist patients in reaping the benefits of these therapeutic tools.
There are only three PA education programs in Canada. The University of Manitoba offers the Master of Physician Assistant Studies (MPAS) degree, which is a nationally accredited coursework-based graduate program.
Patient Transport professionals walk an average of 13 km each shift!
Biomechanical and Clinical Engineering support 20,472 medical devices at HSC
Special Event Spotlight
Sharing some special moments from the second annual Suspended Superheroes event at HSC Children's Hospital on Oct. 25.
Special thanks to Children's Hospital Foundation of Manitoba, Voyageur Technical Inc. and many more for making this event possible!
To learn more about this special event please visit – Suspended Superheroes drop by to visit kids in hospital – Children's Hospital Foundation of Manitoba (goodbear.ca)
More than 70 brave individuals donned harnesses (participant and rappel master) 8 Rappel Masters ensured the safety of anyone stepping over the edge.
An astounding 4,800+ feet of rope was in service.
An astonishing 23 rappel lanes were in simultaneous operation.
Staff Spotlight
We invite you to explore our new series – Behind the Scenes of HSC, an insiders' look at the people, professions and places that make Health Sciences Centre Winnipeg an incredible place to learn and grow.
Do you know a healthcare professional or HSC staff member who has an interesting role? Send us your nominations at [email protected] and let us shine a spotlight on their amazing work.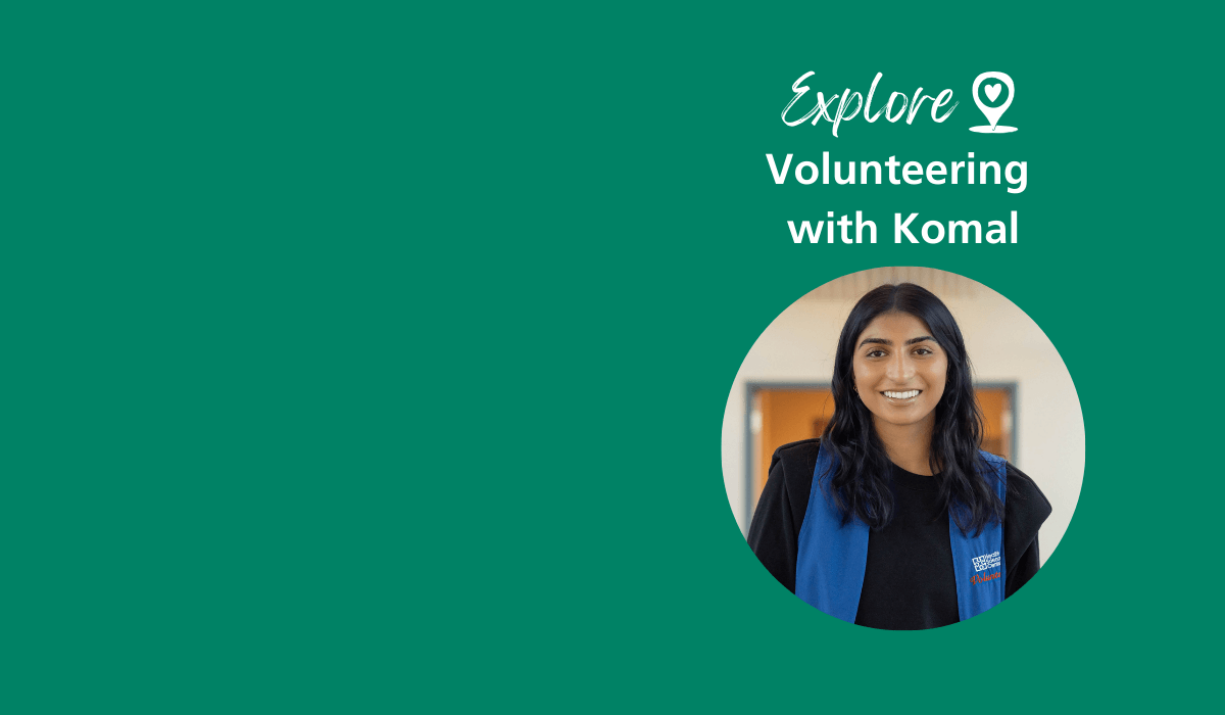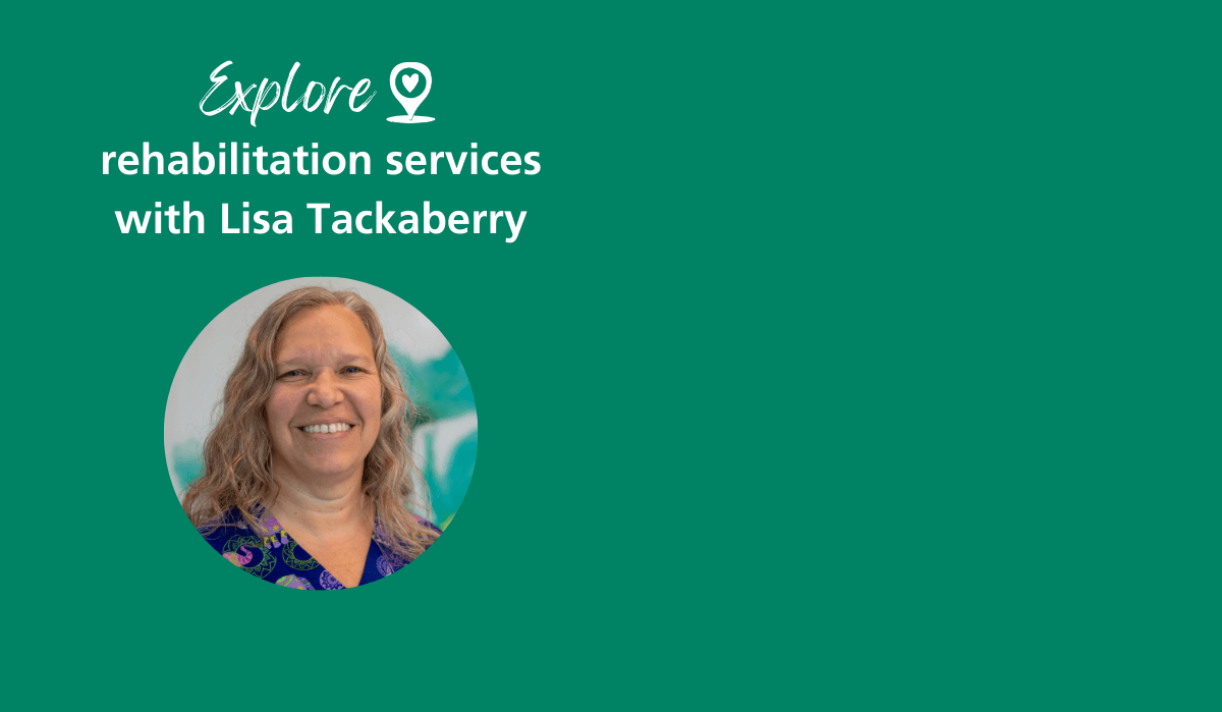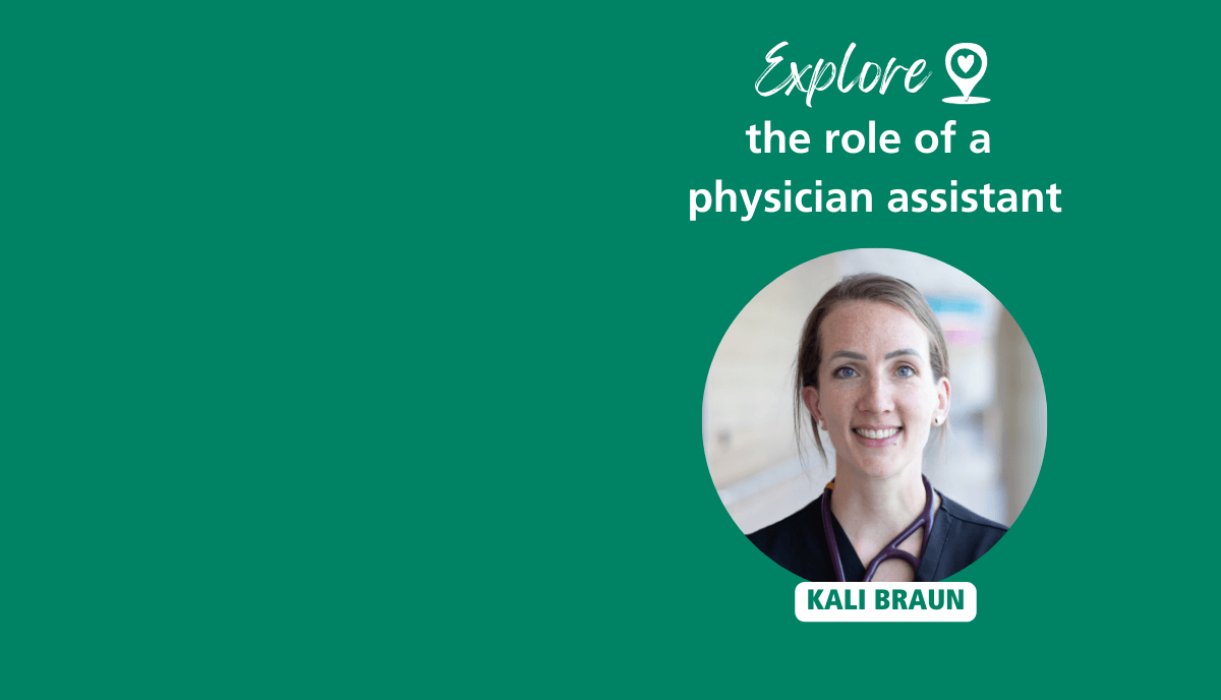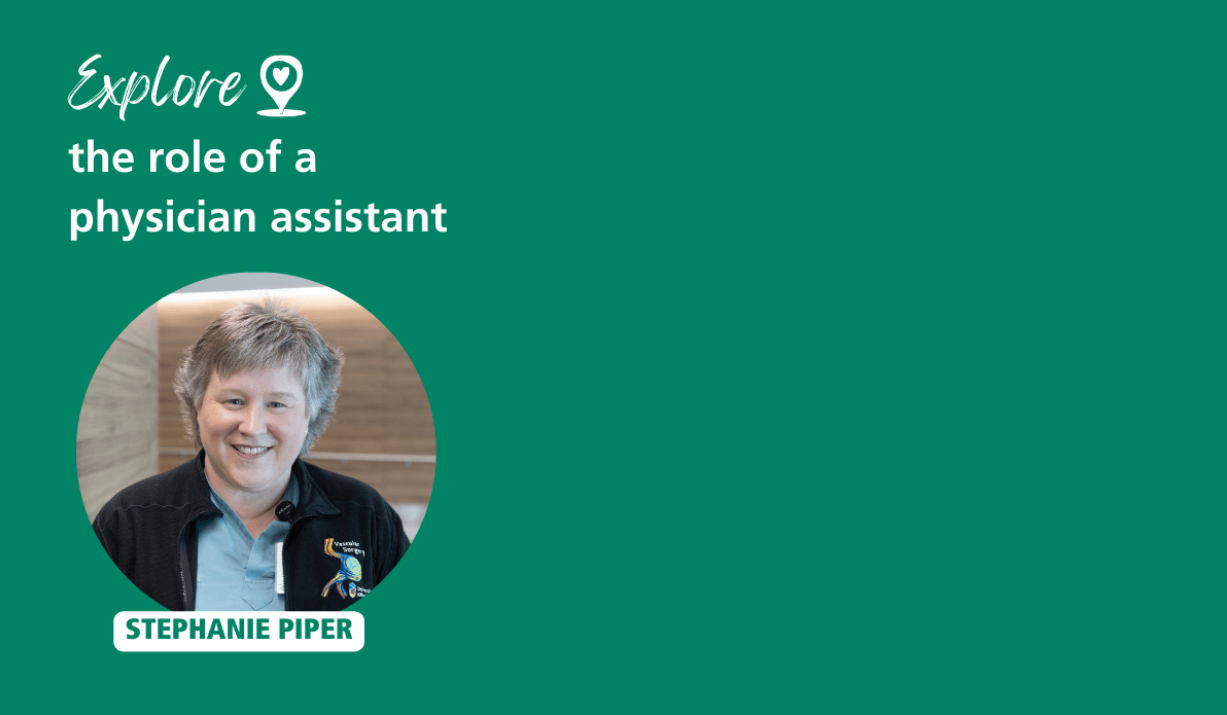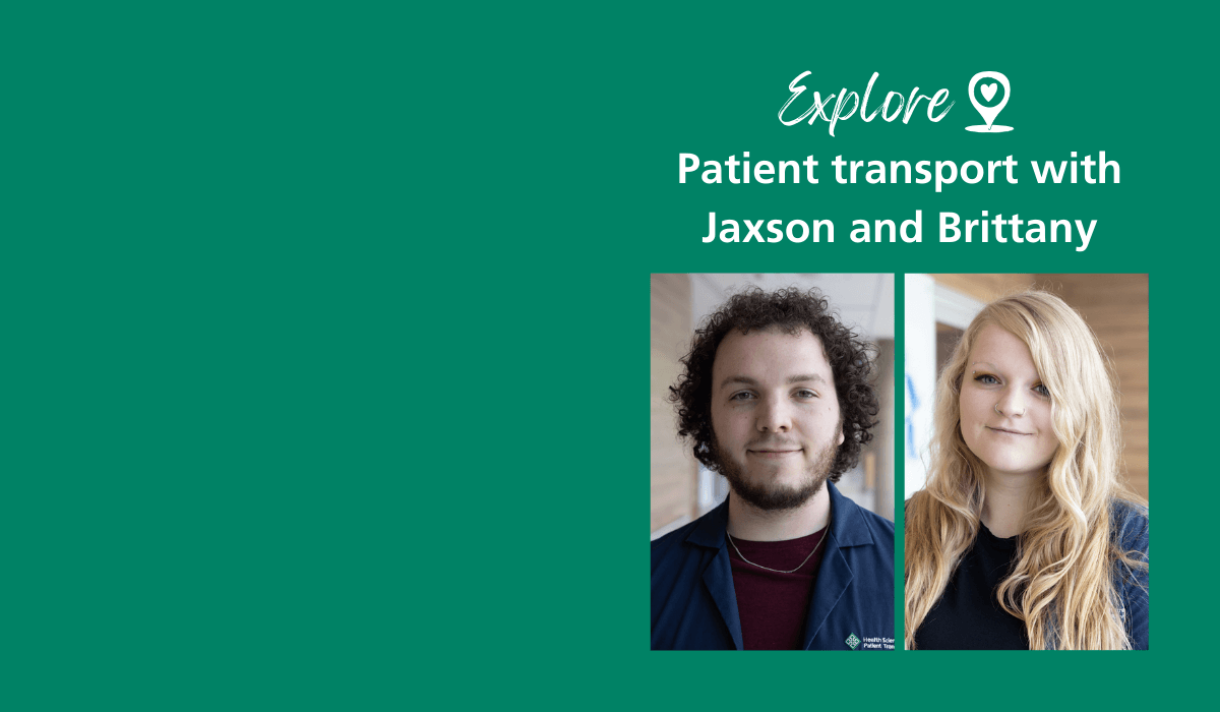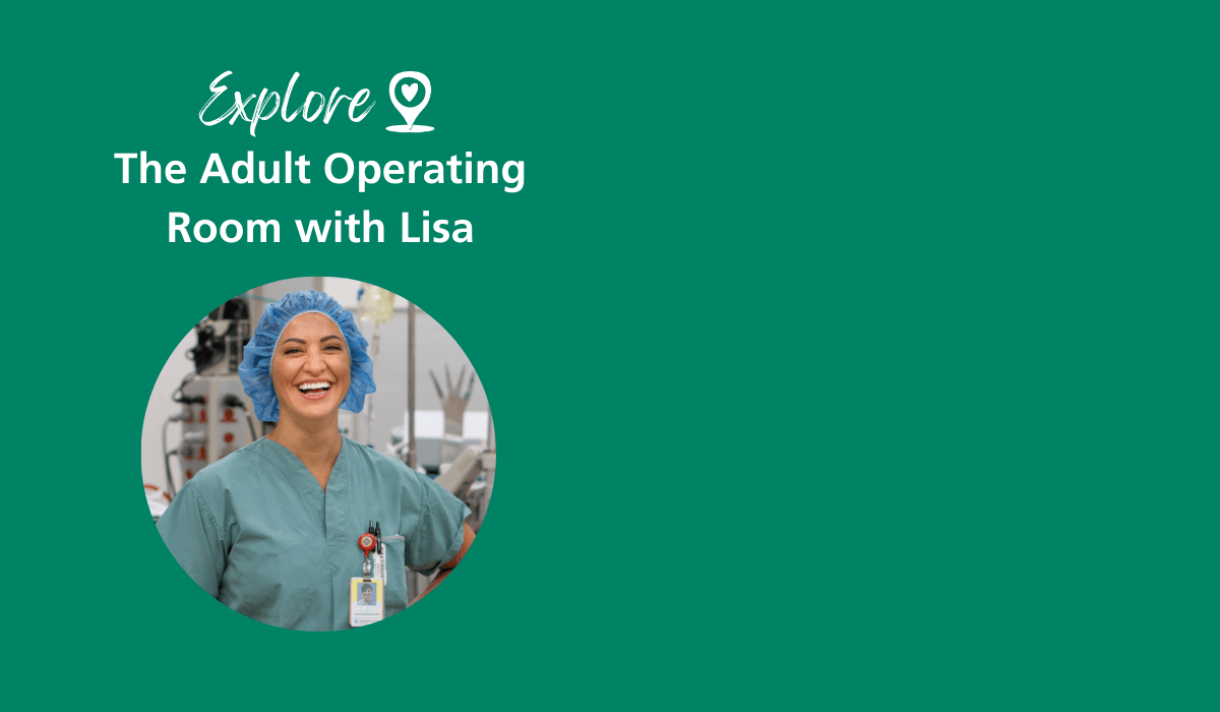 Read more about the inspiring professionals that make HSC a great place to grow.
Check back regularly to see more videos and behind the scenes content of some of HSC's most interesting professions!
Komal Brar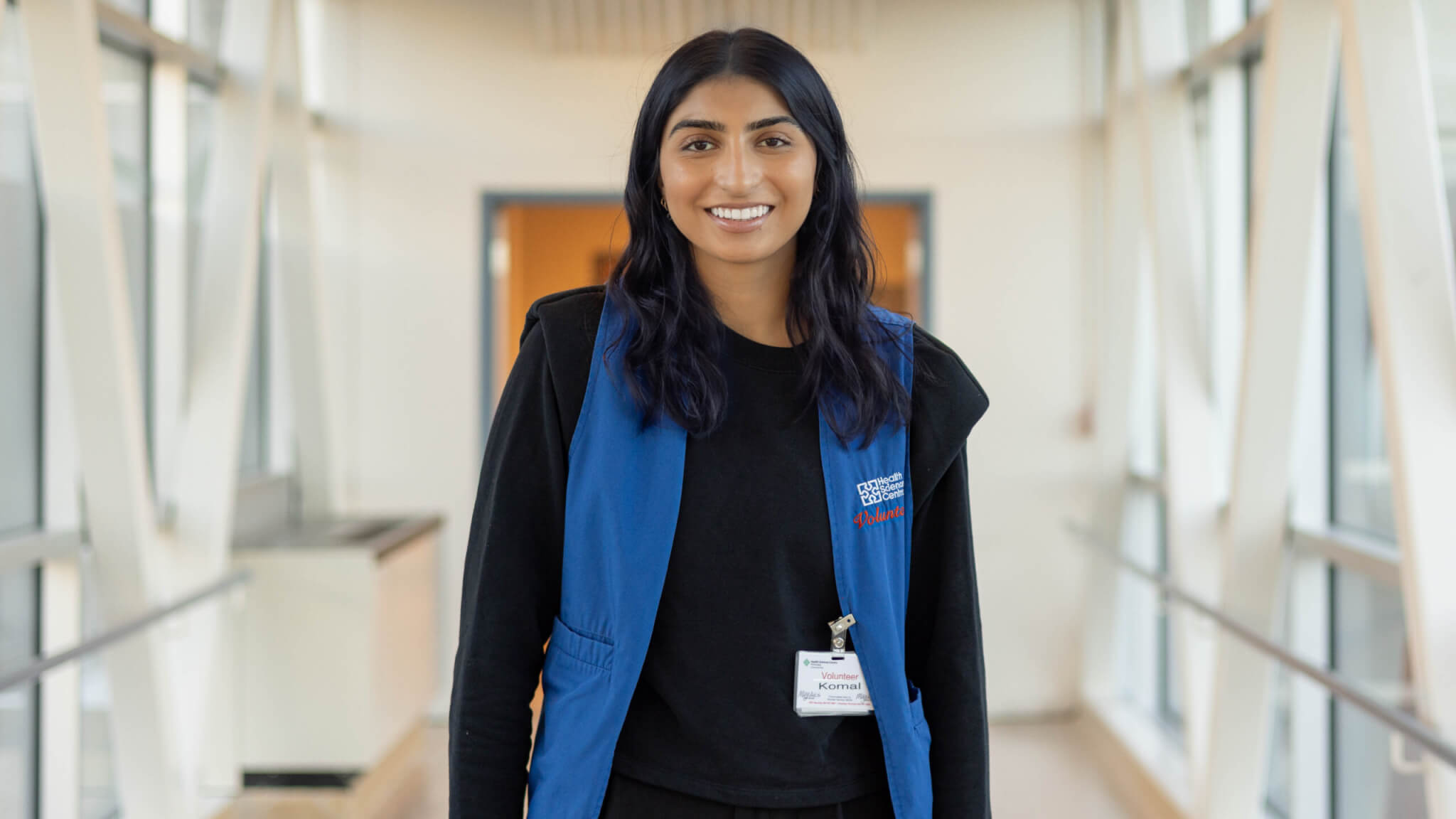 Komal Brar, Volunteer services, Book cart
Komal Brar spends between 5 and 10 hours each week volunteering at Health Sciences Centre delivering reading materials to patients.
At the start of each shift, she takes care to organize the book cart by title, genre and most popular materials before heading out to visit patients on dozens of units – where she eagerly waits to hear about the books they have read since her last visit.
HSC is a special place for Komal. Fond memories of meeting her mother – who works at the hospital – and exposure to the atmosphere of the hospital have fueled her own passion for health care. Komal encourages students and those who may be interested in health care to consider starting as a volunteer to help them explore a number of career opportunities.
When asked what inspires Komal to volunteer, she said "The role is very fulfilling and encouraging when you can help other people and put a smile on their faces. That's what motivates me to volunteer."
Learn more about volunteer opportunities by visiting Volunteers – Health Sciences Centre.
Tab Header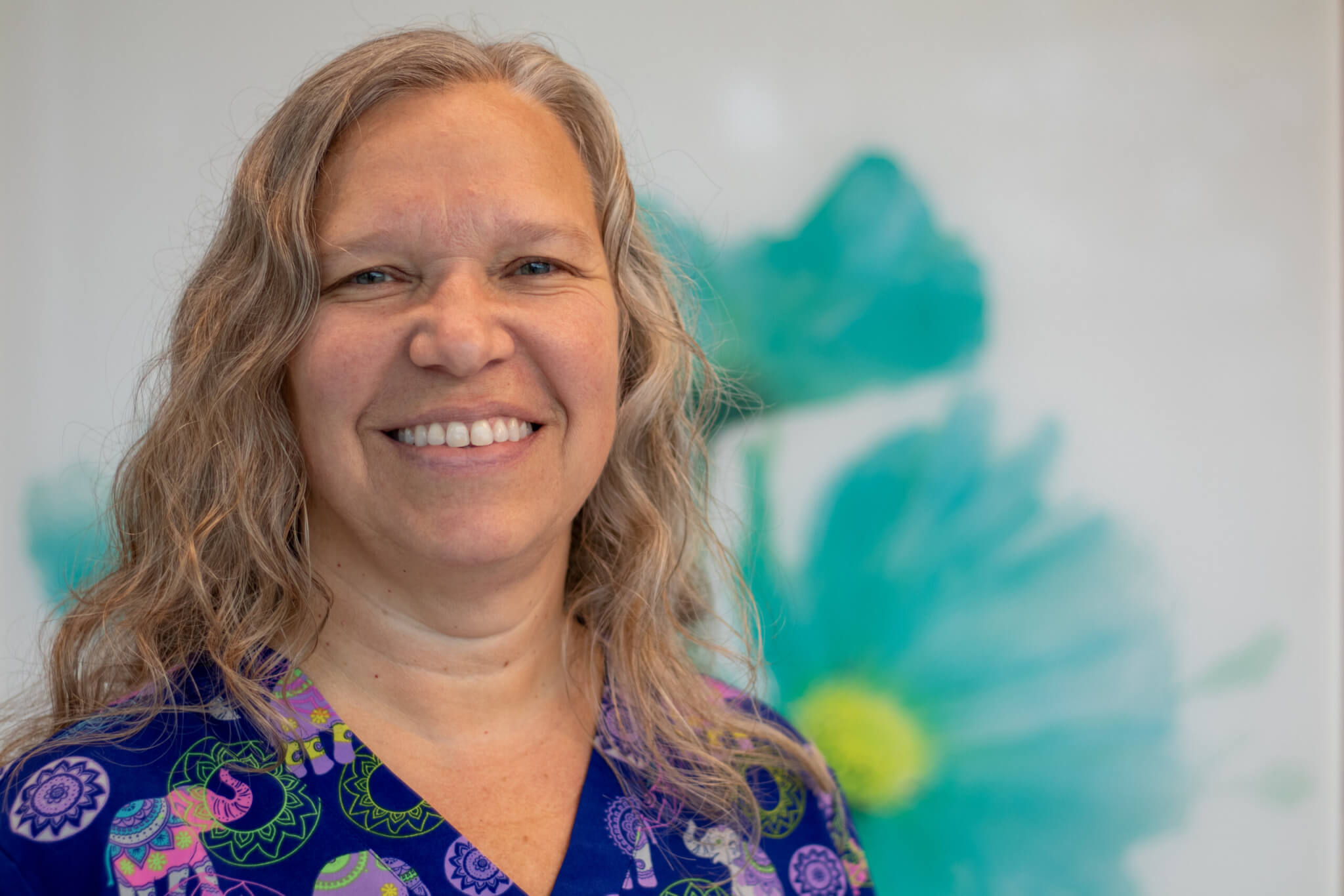 Lisa Tackaberry, Rehab Assistant
Lisa Tackaberry, a dedicated Rehab Assistant for the past 10 years, embraced a new chapter in her life by returning to school at the age of 40. Her remarkable journey led her to join HSC in 2015, where she initially contributed to the orthotics department before transitioning into her current role in direct patient care in 2016.
When asked to define her profession in one word, Lisa describes it as "helpful." Her role embodies both behind-the-scenes work and personalized patient care. Lisa devotes a lot of time to configuring wheelchairs for individuals with spinal cord injuries or stroke.
Lisa's commitment to assisting people goes beyond the boundaries of her profession by designing innovative tools to aid her clients in rebuilding their lives following an injury.
Tab Header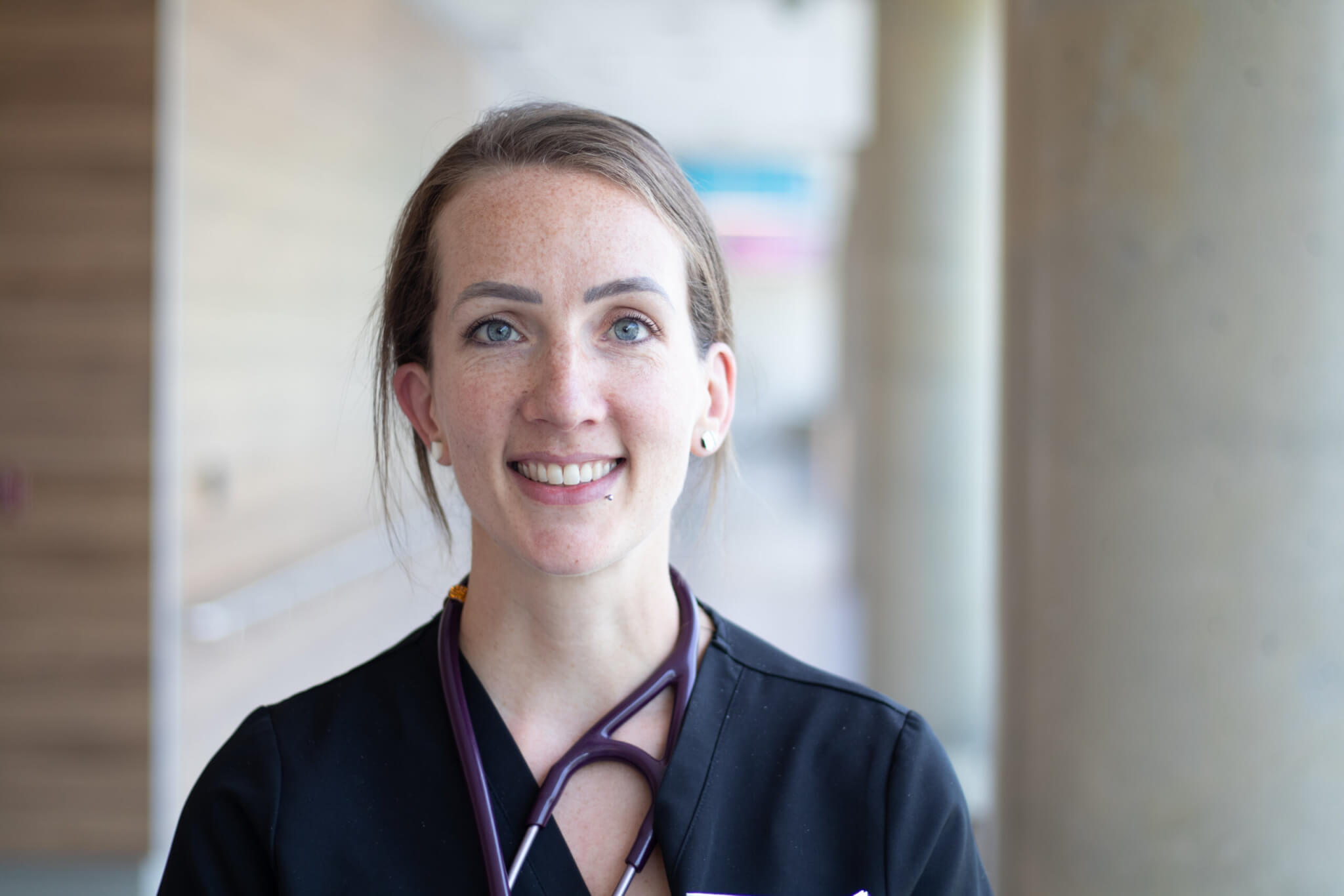 Kali Braun, Physician Assistant, Internal Medicine
Kali Braun has been working at HSC Winnipeg for a little over a year. In May 2022, Kali joined the HSC team, working in Internal Medicine as a Physician Assistant.
Prior to becoming a PA, she completed a master's degree in medical microbiology and worked as a researcher.
What attracted Kali to make the transition from medical research to a career as a physician assistant? She says she was pulled to the opportunity to provide direct patient care.
Most days, Kali works in the same unit, responsible for approximately 10 patients. Kali says the most rewarding aspect of her job is being able to contribute to the continuity of her patients' care. She enjoys being able to remain with her patients throughout the duration of their treatment, building a relationship that gives them a sense of familiarity, that can result in a better overall experience for them.
Kali is truly passionate about her job and the opportunity to learn from a remarkable group of medical staff who value her presence and the care she provides.
Tab Header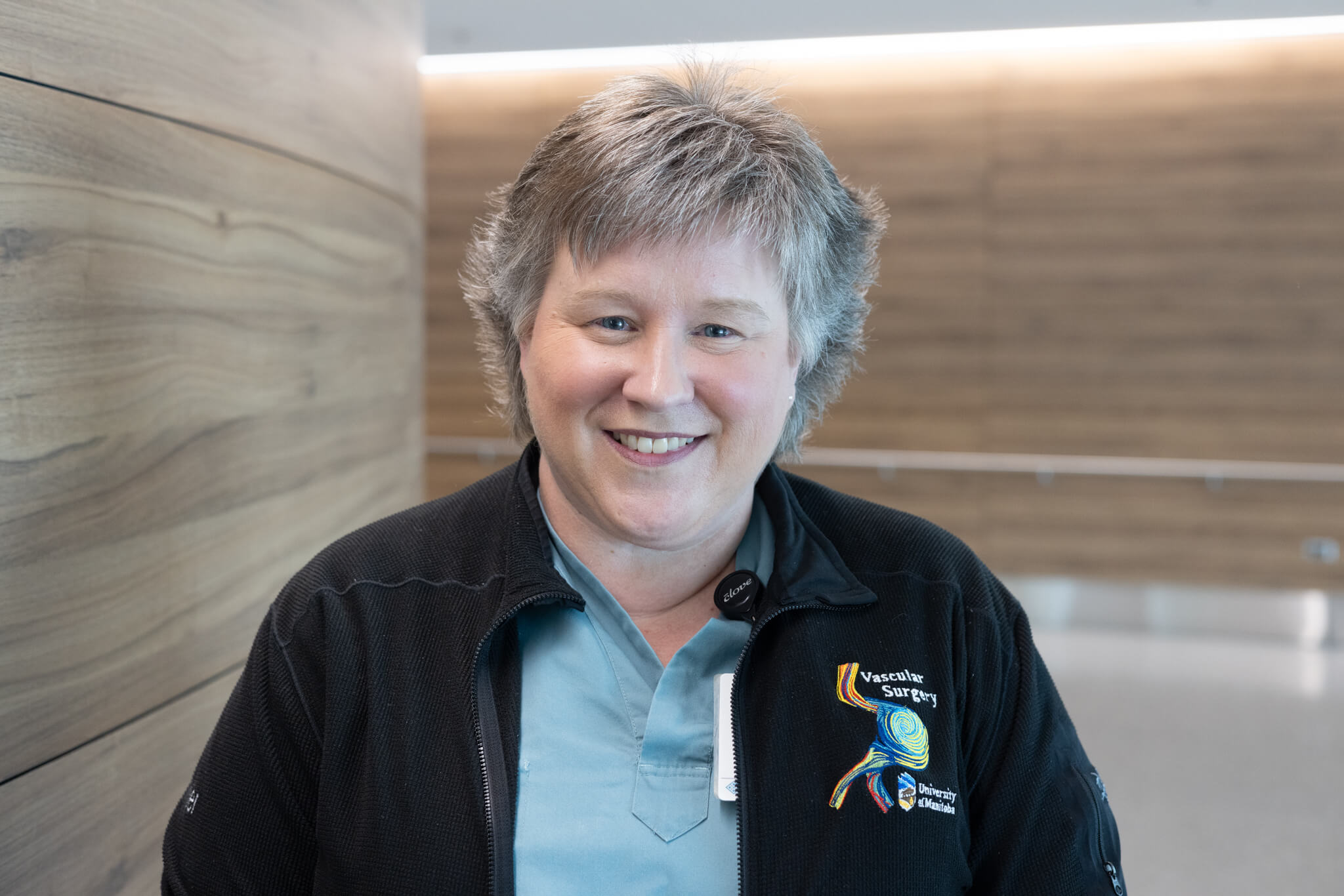 Stephanie Piper, Physician Assistant, Vascular Surgery
Stephanie Piper is a Physician Assistant. Like others in her field, Stephanie is trained in a number of different medical specialties, but currently works in the area of vascular surgery at HSC.
It's a dynamic professional world, where no two days are the same and monotony, according to Stephanie, is non-existent.
A typical workday kicks off early in the morning with patient rounds which involve Stephanie visiting each patient under her care to assess vital signs and speak with other members of the care team. Each day presents unique challenges, opportunities for growth, and exciting encounters with new individuals.
When asked about her ideal health care superpower, Stephanie doesn't hesitate, quickly identifying "unparalleled communication skills" which she says are a fundamental skill for all healthcare professionals.
Stephanie is grateful for the exceptional team she works with, crediting them for making her job so special and her unit and HSC workplaces that she cherishes.
Tab Header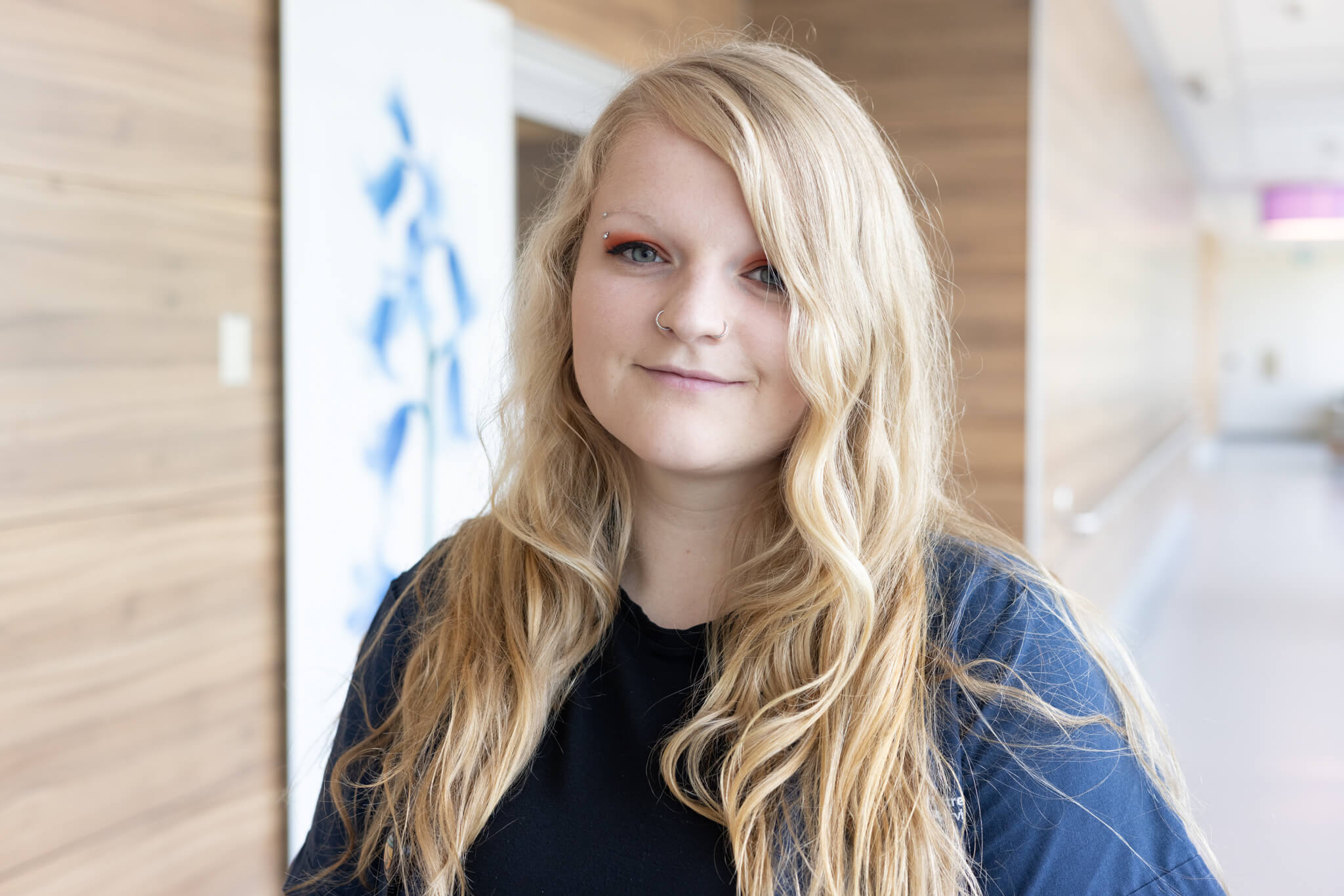 Brittany Bellman-Traegger
Brittany Bellman-Traegger works as a Patient Transport professional at Health Sciences Centre Winnipeg. Like other professionals in her field, Brittany's main responsibility is to ensure the safe transportation of patients and urgent patient-related items across the campus. This includes items such as oxygen, tubing, narcotics, supplies, blood products, specimens, medical records, and equipment.
In the daily operations of the hospital, Brittany plays a vital role in facilitating smooth movements and transfers. Her dedication to the job stems from her passion for health care, as she aspires to become a nurse.
Brittany's favourite part of each day?
Building relationships with patients and providing a helpful service that both eases on other health care providers and creates a welcoming environment for frequent visitors, such as dialysis patients who consider HSC their second home. Working as part of a large team dedicated to caring for others, Brittany believes her role is ideal for those interested in healthcare and looking to gain valuable experience in a hospital setting, as well as individuals who simply enjoy helping others.
Tab Header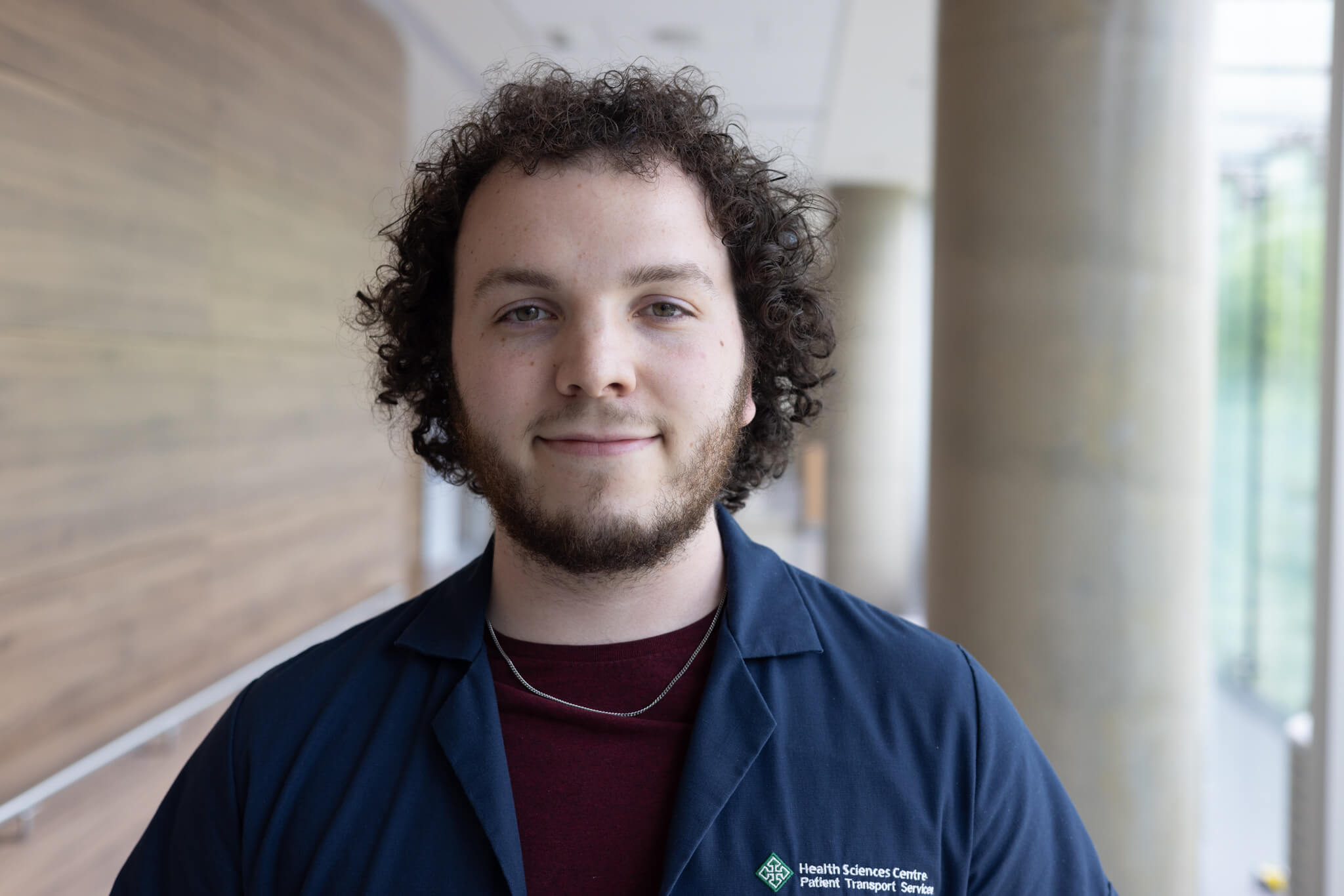 Jaxson Jewell
Jaxson Jewell, a dedicated Patient Transport professional, plays a crucial role in ensuring the smooth and safe movement of patients and essential items within HSC. From oxygen to medical records, Jaxson handles a wide range of items, always ensuring their timely and secure transport.
Beyond the logistical aspects of his work, Jaxson's career in healthcare has left a lasting impact on him and has even influenced his future career planning as he works towards a profession in IT in so he can continue supporting healthcare from a non-clinical perspective.
Jaxson understands the value of his role at a place like HSC, the province's largest tertiary hospital where he is able to build support and build relationships with patients who frequently access services at the hospital, like those receiving dialysis treatment who consider the facility their second home.
Jaxson feels fortunate to have found a job that he genuinely loves and encourages those who are interested in a career helping others to look for opportunities in Patient Transport.
Tab Header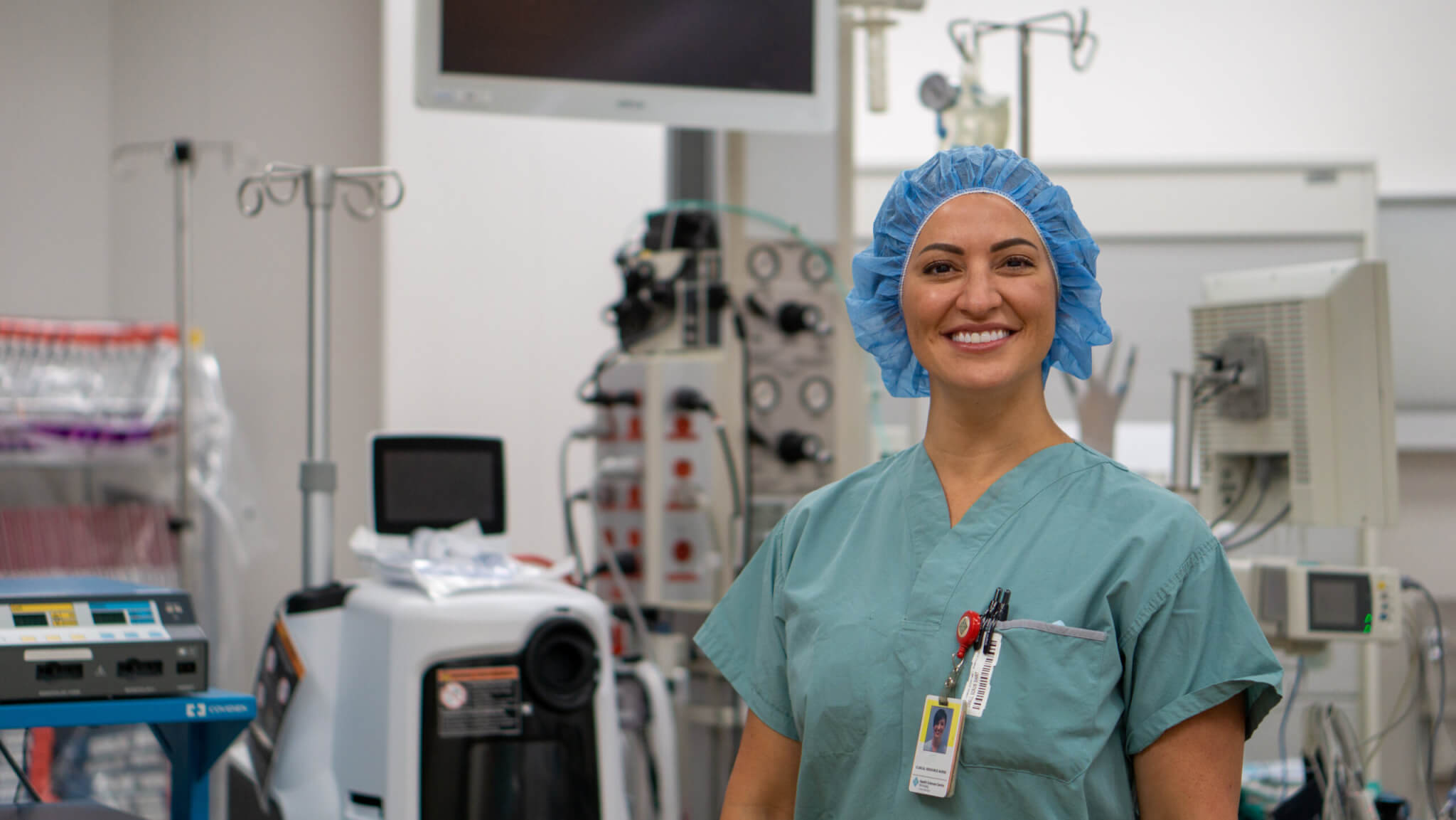 Lisa Turcotte, Nurse Educator, Adult OR
"I make every effort to ensure my patients feel understood, respected and supported throughout their surgical journey. Our team relies upon close teamwork and collaboration across a wide variety of professions including nursing, surgeons and anesthesiologists.
We have a huge responsibility here. Our patients are vulnerable and we really speak for them. It's work to be proud of.
It's this collaborative spirit that creates high-functioning and efficient operating room environments where we can work together for our patients."
As a Nurse Educator, Lisa Turcotte takes great satisfaction in sharing her expertise with others. Working closely with operating room staff and other educators, Lisa creates and delivers educational sessions, tools and resources for members of the adult operating room team at Health Sciences Centre Winnipeg.
Career Opportunities
Looking for career opportunities? Visit Professionals – Health Sciences Centre and learn about how you can grow your career at HSC Winnipeg, a Shared Health facility, where you will touch the lives of patients from every corner of Manitoba, Northwestern Ontario and Nunavut. HSC Winnipeg provides specialized support for trauma, transplants, burns, sexual assault nurse examination, neurosciences, complex cancer care, neonatal and pediatric care.
HSC is a fast-paced, dynamic environment for working, learning and research in Manitoba's largest health-care facility. Here you will find welcoming and supportive work environments with mentorship and training programs to help you advance your career.