Surgery
Our Women's Surgery care team provides family-centred care to women for a variety of services such as antepartum, gynecology, gynecological oncologic, and gynecologic palliative care.
Surgical care includes laparoscopic, hysteroscopic, vaginal, uro-gynecologial and laparotomy procedures, as well as other minor surgical procedures.
Pre-Operative Assessment Clinic (PAC)
This clinic provides pre-operative assessment care to all women who require admission postoperatively, an anesthesia consult, or collaborative care from other health providers.
Some patients will need to be seen in PAC in the days before their surgery. If your doctor would like you to be seen, you will be contacted by the PAC team to book an appointment. You will meet with a member of the Anesthesiology team so that they can learn more about you and your health, and decide if other tests are needed before your surgery. You will also be able to learn about the types of anesthesia you may have during your surgery, as well as plans for pain control after surgery.
We will need to review your medication history. Bring a detailed list of all the medications you are taking (including over-the-counter, prescribed, herbal medications or vitamins).
For detailed information, view the guide to your hospital stay when having gynecology surgery or procedure room instructions.
View a virtual tour of Surgery
---
How to prepare for surgery
Screening tests: You may be asked to get some blood work done prior to surgery. The surgeon's office will provide more information. Required tests depend on the type of surgery you're scheduled for and your overall health status.
COVID-19 testing: Asymptomatic patients will need to undergo a rapid COVID-19 testing a day prior to surgery. The surgeon's office will contact you with instructions.
Respect fasting instructions: No solid food or alcohol after midnight the night before your surgery.

You may drink clear fluids (no pop or sports drinks) up until 2 hours before you are told to arrive at the hospital on the day of surgery. A clear fluid is any liquid you can see through such as water, apple juice, cranberry juice, clear broth, clear tea or coffee (without milk or cream). Milk and orange juice are NOT clear fluids and should not be taken.
Continue with your medications: You may take medications as ordered by your surgeon or the anesthesiologist on the morning of your surgery with a sip of water.
Arrange for a ride home after your surgery: You are not permitted to drive a motor vehicle for 24 hours after your surgery.
Day of surgery
What to bring – Hospital bag checklist:

Important documents: Manitoba Health card, identification, private insurance cards.
Leave valuables at home. HSC is not responsible for lost or stolen items.
Comfortable and loose clothing for you to change into once you are ready to go home.
Personal toiletries: Shampoo, conditioner, soap, toothbrush, toothpaste, deodorant, towels, hairbrush, hair dryer, lotion, hair ties, extra glasses/contact lenses
Nice to haves: Tablet, headphones, chargers, books, snacks, and drinks
Arrive on time: Arrive at the hospital 2 hours prior to your surgery time. Report to the welcome desk on Level 1.
Remember your case number: After you are registered, the admitting clerk will give you a case number for your loved ones to track your progress throughout the surgery. Your case number is colour-coded and displayed on a digital board in the waiting room.
First assessment: An assessment nurse will review your medical history and take your vital signs such as your blood pressure and temperature. You will also meet your surgical team, which is made up of an anesthesiologist, surgeon, nurse, and nursing assistant. The nursing assistant will take you to the operating room.
Recovery: Once your procedure or surgery is complete, you will be taken to the post-anesthesia care unit, also known as PACU to recover. If you are going home after your procedure or surgery, staff will call your support person to take you home when you have met the discharge criteria. You must arrange to have a responsible person care for you at home.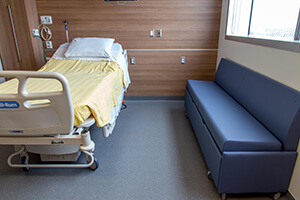 Private patient rooms: If you are admitted to the hospital, our care team will take you to a patient room. All patient rooms are private and there is a fridge in each patient room to keep food or beverages from home. Alcohol is not permitted. Your room will have a spacious washroom, and shower.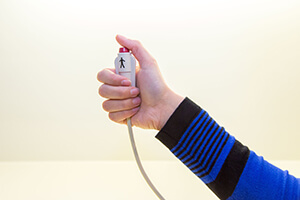 You may have one or more nurses specifically assigned to look after you and your care needs.
You can directly reach your nurse by pressing the call button on the patient call system in your room.
Care at home
Our care team will tell you everything you need to know to ensure healing continues at home.
Always talk to your care provider for specific guidance on when you can return to normal activities and for information on when to seek medical care if complications arise.
We will provide you with verbal and written instructions. Don't be afraid to ask questions, we are here to help.
Health Links – Info Santé
If you are unsure what to do once you are home, Health Links – Info Santé is staffed by bilingual registered nurses 24/7, 365 days of the year.
Call 204-788-8200 or toll-free 1-888-315-9257 for health advice.