Neonatology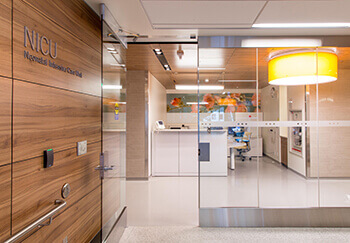 665 William Avenue (Level 2) • 204-787-5907
The neonatology unit cares for the sickest newborns in the province. Located on Level 2 of HSC Winnipeg Women's Hospital, the neonatal intensive care unit (NICU) has specialized teams provide care for babies of all acuities. The NICU staff care for more then 1,400 newborns every year.
The NICU has patient rooms that have their own dedicated family space, which includes a pullout sofa bed for overnight stays and a fridge to store breast milk. Showers are also nearby on the same floor.
The Family Zone, also located on Level 2, has lockers, play areas, a TV, kitchen, and a breast pumping room.
You are part of the team that makes decisions about your baby
Every morning at 9 a.m. your care team will meet to discuss your baby's health during patient rounds. The team moves from bed to bed and spends between 5-15 minutes with each patient. We talk about how your baby is doing, plan of care, what has happened over the past day, and problems that may arise.
Your thoughts and feelings are always welcome, and you are encouraged to be part of the discussion. You know your baby best, and we value your insights and opinions. We welcome all your thoughts and questions.
If you have concerns or questions that need more time to answer, we will arrange to continue the talk after the end of rounds.
Your presence in the room
Parents and guardians are part of the team, and you may be with your baby as much as you like. Most of the time, you can stay in the room when we are giving your baby care. There may be times when a procedure is being done and we may ask you to step out of the unit and wait in the family spaces. There may also be times when you may choose to leave while something is being done. You can discuss this with your nurse. We will call you back when we are finished.
If you do not understand a reason for being asked to leave, please talk to the nurse about it.
Patient Transfers
When your baby no longer requires this level of care, your baby will be moved to an HSC Winnipeg Children's Hospital unit, St. Boniface Hospital NICU, a hospital closer to where you live (such as Brandon or Thompson), or home. We understand changing to a new unit or hospital can be difficult and we will work with you to ensure a smooth transition.
We will try to give you as much time as possible to prepare, but at times, situations arise where a quick transfer may occur.
Learn more about the patient transfer process.
---
NICU journey with your baby
Welcome to the NICU. We are here to support you through this stressful time. In addition to providing the specialized care that your baby needs, it is our pleasure to provide you — our family partners — with information and support. Please see the resources and links below to help you make your time in the NICU easier.
Before delivery of your premature baby
Taking your baby home
Breastfeeding and pumping
Below, you'll find resources to guide you through the breastfeeding and pumping process.
Breastfeeding and pumping support takes place every third Tuesday of the month at 1pm in the Family Zone
A specialized team taking care of your baby
Our exceptional NICU staff care for more than 1,400 of the sickest newborns every year at HSC. There are many professionals on the team, including:
Attending Neonatologist (NEO): A physician with special training in newborn intensive care. They have completed a residency first in Pediatrics and then done anywhere from 2-3 years of extra training specific to the care of very sick newborns. The Neonatologist is commonly seen leading morning rounds and will be the one typically asked to speak you when there is something important to share. Though you may not see them front and centre, they are in continuous communication with the rest of the team, and always know what is happening with all the babies.
House Medical Officer (HMO): HMOs have completed a Pediatrics residency, and a Neonatology fellowship. You will get to know them over time as they are on the frontlines and will be seen days and nights in the unit.
Neonatal Fellow: A fellow has completed a Pediatric residency and is now doing specialized training in NICU. In their first year, they do an abundance of clinical work as they learn the specialty and obtain expertise in the field. As they move into their second and optional third year, they take on additional responsibilities and typically will do a "Junior Attending" role on a few occasions. In this capacity, they act as the Neonatologist and run the NICU. The main Neonatologist continues to be updated on all the babies in the unit but will not always be present during rounds. This graduated responsibility is part of the development of the Neonatal fellow.
Pediatric Resident: Residents are training to become Pediatricians. They complete a mandatory number of rotations in NICU to learn and obtain specific skills necessary for the profession, such as intubation and inserting umbilical catheters. These individuals have comprehensive training in all areas of Pediatrics and will be familiar with the ability of the NICU to care for your baby if they are transferred to a different hospital unit.
Clinical Assistant (CA): CAs will typically not have completed a full Pediatrics Residency but in most cases have come very close. They function in a capacity similar to the HMO.
Nurse Practitioner (NP) or Neonatal Nurse Practitioners (NNPs): These individuals have a nursing background and have gone through a very advanced program. They can perform all the procedural skills as their physician counterparts and function as part of the medical team.
Nurse Manager: They are responsible for the day-to-day operations of the NICU. They have a great bird's eye view of the unit and are knowledgeable of hospital policies and practices. If you have concerns about your experience in the NICU, ask to speak to the nurse manager.
Charge Nurse: This position is in many respects the nursing equivalent of the Neonatologist. These individuals will co-lead with the Neonatologist on rounds, they are involved in bed management, and they are aware of all events that occurred overnight.
Bedside Nurse: They are the ones you will have the most contact with. They provide direct nursing care to your baby and are often the person you will speak to the most during your day.
Registered Respiratory Therapist (RRT): These individuals support babies who are having difficulty breathing. They are called when a baby needs CPAP (Continuous positive airway pressure) or a ventilator, and they are also the ones who takes blood for analysis to check oxygen and carbon dioxide levels among other things.
Occupational Therapist (OT): This group can perform many tasks including the assessment of oral feeding. Many have developed exceptional skills at assessing infant sucking and swallowing. They may recommend pacing strategies to help your baby achieve full oral feedings faster than they would have otherwise.
Physiotherapist (PT): They are often called to assess infant tone and posture. They may provide equipment or recommendations such as stretching exercises to help your baby with their musculoskeletal system such as limb positioning or muscle tone.
Pharmacist: For babies, medication doses are more complicated than for adults and they are typically measured per kg of body weight. The pharmacist helps determine proper dosing including type of drug, correct dose, and advises the team on potential side effects to reduce risk to your baby.
Registered Dietician (RD): Feeding a preterm infant can be challenging, and these individuals keep a very close eye on your baby, monitoring nutritional intake and advising on adjustments needed to optimize growth and achieve the right balance for weight, length and head circumference.
Social Worker: NICU is a stressful time. You may have other children that you are worried about or you may be far from home. In addition to the bedside nurse, social workers are here to support you and to help you access programs and resources.
Family Support Coordinator: This position is held by a veteran parent of the NICU responsible for caring and supporting parents. The Coordinator also manages volunteer veteran parents who have experience with having a baby in NICU. They can answer questions, give advice, or talk to you when you need some care. They will help make your stay in the unit a bit better. Family support happens at the bedside or through various programs, such as weekly parent drop in sessions. Information about family support activities can be found on the Family Zone whiteboard. The Coordinator also manages volunteer baby cuddlers who are available to hold babies when parents need to be away from the unit.
Veteran Parent: These individuals have experienced the journey through NICU firsthand. They may organize information sessions for families and provide direct one-on-one support.
Baby Cuddlers: These volunteers are with your baby when you can't be present. Parents often worry about who will be with their baby while they are gone, and baby cuddlers step in. They may read or sing to your baby.
Spiritual Health practitioners: These individuals provide care to all whether you identify as spiritual, atheist, religious or agnostic. They are specifically trained to provide support for your emotional and spiritual well-being especially during times of difficulty and crisis. They also arrange ceremonies, smudge, sacraments, and rituals. To request the on-call practitioner, call 204-787-3884.
What to bring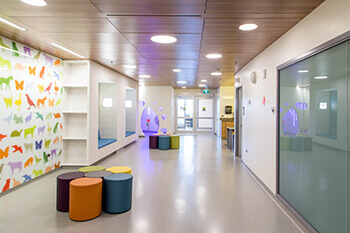 Food
The fridge in your baby's room may only be used to store breast milk, not food or beverages from outside. Our Family Zone has a kitchen area where you may eat meals. Please follow the capacity limits and observe physical distancing at the table.
Linens
You will be given one wipeable pillow and pillowcase, fitted and top sheet and thermal blanket, if you choose to stay overnight. You may want to bring your own bed linens.
There is a shower available for you to use in the Family Hallway. Bring your own towels, shampoo, and soap. Due to the pandemic, this service may not be available, please ask your nurse.
What Not to Bring: Valuables
While you are here, please avoid bringing valuables. If you need to bring valuable items, do not leave them in your baby's room. Personal items may be stored in the lockers located in the hallway of the Family Zone. These lockers are available for day use and must be emptied each day. There is also unlocked closet space available in your baby's room for storage.
Resources and Important Links
Common Issues of Premature Babies
Retinopathy of Prematurity
Immunizations and Vaccines
Important Links