Pregnancy & Prenatal Care
Pregnancy and Prenatal Care
Obstetrical triage
Level 1, 665 William Avenue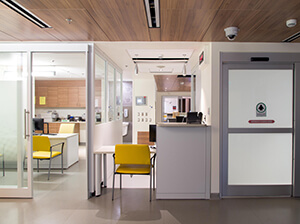 Women who need medical attention related to their pregnancy will be first assessed in our Triage area. Priority will be given to women who are in active labour or having complications with their pregnancy. This includes pregnant patients greater than or equal to 20 weeks gestation, threatened pregnancy loss at 14-20 weeks gestation with vaginal bleeding with or without abdominal pain, and postpartum patients up to 6 weeks post-delivery.
Not sure if you're in active labour? Read the difference between pre-labour and true labour.
Triage is a secure department – please use the intercom to gain access. This area has nine private rooms (each with their own washroom), three stretcher bays with one shared washroom for very short stay patients, and a "Labour Lounge" for patients who are not yet in active labour.
Prenatal testing and monitoring
HSC offers prenatal care for services such as screening or diagnostic testing.
If you have an upcoming appointment at one of our ambulatory clinics, please visit the Find a Clinic page for more information.
Pregnancy counselling
HSC provides counselling and pregnancy options services.
For pregnancy termination (up to 19 weeks and six days) including medical or surgical terminations, call 204-787-1980 to book an appointment. Nurses are available to provide counselling options over the phone (and in person if required) with patients.
If you are pregnant and not sure about your options, the Women's Health Clinic Birth Control & Pregnancy Counselling (BCPC) Program is a great place to start. Counsellors offer non-judgmental and compassionate information support, and information about adoption, parenting and termination. To make an appointment with a BCP Counsellor, please call 204-947-1517.
You can also view their resources page for decision-making tools and websites that may help you with your decision.