Labour & Delivery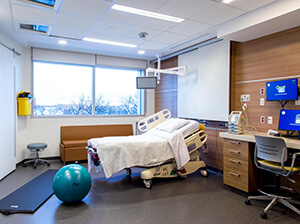 The Labour & Delivery area has 17 patient rooms. All patient rooms are private and have a spacious bathroom with a bathtub with shower for labour pain management only (we are not able to accommodate water births). Patient rooms also have a fridge for the patient's personal food, and sofa bed for overnight stays.
Every room has a large window. Light was important to the design of the space as it's been proven to be beneficial to healing and well-being.
Most women will labour, deliver and then recover for approximately two hours in the same room before moving to the Mother Baby area on another floor for postpartum care.
What to bring: Hospital bag checklist
If you're not sure where to start, we recommend the following items:
FOR MOM
Important documents: Manitoba Health card, identification, private insurance cards, social insurance number (SIN card), pen to complete forms
Personal toiletries: Shampoo, conditioner, soap, toothbrush, toothpaste, deodorant, towels, hairbrush, hair dryer, lotion, hair ties, extra glasses/contact lenses
Comfortable clothes: Robe, slippers, underwear, nursing bras, pajamas, tank top, socks, leggings, or sweatpants
Nice to haves: Tablet, headphones, chargers, books, snacks, and drinks
FOR BABY
Approved infant car seat: Review the Manitoba Public Insurance's child car seats guidelines for instructions and appropriate use prior to coming to the hospital. Bring your infant car seat (and a cover for cold weather) with you into the hospital before discharge so staff can review basic safety points with your family. If you do not have a car seat, let your care team know.
Going home outfit: Bring clothes in different sizes to make sure they fit. Baby wipes, sleepers, blanket, diapers, hats, socks.