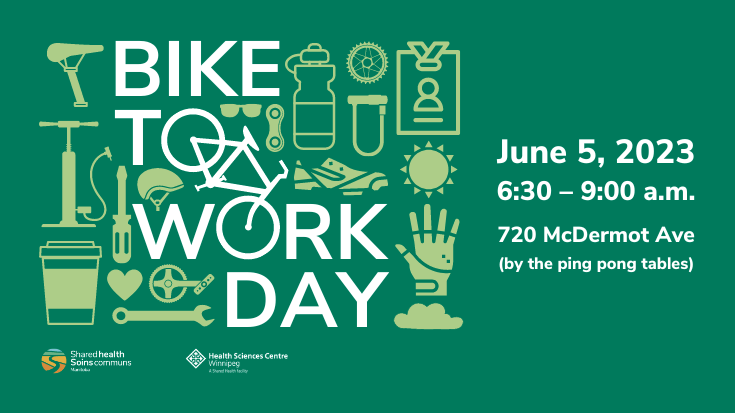 Join us for a morning of snacks, prizes, and music!
What: Bike to Work Day Pit Stop
When: June 5, 2023 from 6:30 to 9:00 a.m.
Where: 720 McDermot Ave (by the ping pong tables)
Bike to Work Day is the kickoff event of Bike Week, a weeklong celebration dedicated to changing the culture of cycling in our city. Bike to Work Day is a great opportunity to save some money on your commute, reduce your carbon footprint, and connect with other cyclists.
There are a number of options to lock up your bike on the HSC Winnipeg campus — for more information, contact the parking office at 204-787-2715 or hscparking@hsc.mb.ca.
We hope to see you out there!
Looking to plan your route? Download the Cycling Map from the City of Winnipeg.
New to cycling? Check out Cycling 101 from Manitoba Public Insurance to make sure you're commuting safely.
For more information about the various Bike Week festivities, visit their website.